Courses & Workshops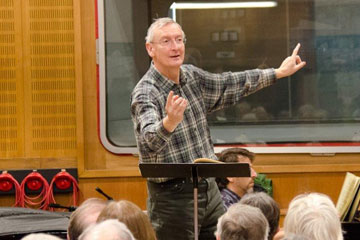 Jeremy directs many choral workshops in the UK and overseas. He has been a resident Musical Director for RunbySingers since 2004 – which has taken him to, Reykjavik, Krakow, Paris and Vienna – and he has also directed several of their popular cathedral weekends in Ely and Cambridge. In addition, Jeremy has directed workshops for the Sherborne Summer School (formerly Canford) Benslow and Lacock. More recently he has also directed events for the Really Big Chorus.
In fact his appearances at such events are usually spread right across the year, and have taken him throughout Europe and beyond, to the USA and Taiwan. Jeremy's approach to these events is simple: "It doesn't matter what level people start from", he says. "Within a relaxed atmosphere there is the chance to explore different music at leisure, to think about vocal production, blend, balance and intonation, and to come away feeling replenished, refuelled, and eager to put into practice what has been learned."
Jeremy has worked with small groups, large choirs and multi-choir events. Many of these are workshops open to the public but he is also frequently asked to host singing days and training sessions for established choirs. Children as well as adults benefit from his infectious enthusiasm and lively approach to music-making.
8 February 2020

English Baroque Choir Open Workshop, London

The English Baroque Choir's annual singing days (open to all singers who read music) are renowned for being fulfilling and fun! This year the main work is Haydn's Stabat Mater.

Registration will be through the website: www.ebc.org.uk/

21 – 25 July 2020

Laudemus: Choral Evensong Course, Dorset

Laudemus is celebrating its 30th Anniversary Year.  We sing Evensong from Tuesday to Saturday inclusive in a different Dorset church, with different music daily.  Accommodation is at Bryanston School. Applicants must be above average sight-readers, and experience of singing Evensong is an advantage.

For more details, email: laudemus@aol.com

25/26 September 2020

Requiem to Cancer

Over 24 hours, starting on the Friday evening, participants address a number of difference Requiem settings, accompanied on the piano. (I will take the last 'slot', when we will sing Brahms's Requiem with the four-hands accompaniment sanctioned by the composer.) This mini-marathon (you can join in and drop out at any time) takes place at St Paul's Covent Garden and all the proceeds go to Cancer Research UK.   

18 – 25 October 2020

Transylvanian Adventure, Brasov

Transylvania is astonishingly beautiful; lush countryside surrounded by mountains, forests and lakes which provide a setting for splendid castles and palaces.  Our concert (in the famous Black Church) contains a wide variety of music accompanied and unaccompanied, and the finale will be a new piece specially composed for Run by Singers.  

1 – 4 December 2020

Really Big Chorus, Cologne

Visit the Christmas Markets, and join the rehearsals leading to a wonderful concert featuring Christmas music old and new.