Courses & Workshops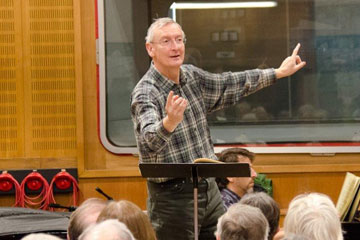 Jeremy directs many choral workshops in the UK and overseas. He has been a resident Musical Director for RunbySingers since 2004 – which has taken him to, Reykjavik, Krakow, Paris and Vienna – and he has also directed several of their popular cathedral weekends in Ely and Cambridge. In addition, Jeremy has directed workshops for the Sherborne Summer School (formerly Canford) Benslow and Lacock. More recently he has also directed events for the Really Big Chorus.
In fact his appearances at such events are usually spread right across the year, and have taken him throughout Europe and beyond, to the USA and Taiwan. Jeremy's approach to these events is simple: "It doesn't matter what level people start from", he says. "Within a relaxed atmosphere there is the chance to explore different music at leisure, to think about vocal production, blend, balance and intonation, and to come away feeling replenished, refuelled, and eager to put into practice what has been learned."
Jeremy has worked with small groups, large choirs and multi-choir events. Many of these are workshops open to the public but he is also frequently asked to host singing days and training sessions for established choirs. Children as well as adults benefit from his infectious enthusiasm and lively approach to music-making.
2 – 5 December 2018

Run by Singers – Mozart Requiem, Vienna

Once again Run by Singers has been invited to provide the choir for the annual performance of Mozart's Requiem at midnight on the anniversary of his death.  Those who have taken part on previous occasions will know how special this is – the performance takes place in the Karlskirche accompanied by original instruments.

Full details at www.runbysingers.org/

2 February 2019

English Baroque Choir Open Workshop, London

The English Baroque Choir's annual singing days (open to all singers who read music) are renowned for being fulfilling and fun! This year the main work is Mozart Great Mass in C minor.

Registration will be through the website: www.ebc.org.uk/

15 – 17 March 2019

A World Tour with Jeremy Jackman

Let a cappella choral music take you round the globe in Benslow's 90th anniversary year.  Not for beginners, applicants will need to have a reasonable standard of music reading.

6 – 13 July 2019

A Bach Pilgrimage of Thuringia and Saxony

A wonderful opportunity to visit all the centres where JS Bach worked.  So many visits means less singing, but we will offer musical tributes as we go round, and there will be two short concerts in Leipzig and Weimar.

Full details at www.runbysingers.org/

14 – 21 July 2019

Laudemus: Choral Evensong Course, Dorset

This course is now in its 29th year.  We sing Evensong from Tuesday to Saturday inclusive in a different Dorset church, with different music daily.  Accommodation is at Bryanston School. Applicants must be above average sight-readers, and experience of singing Evensong is an advantage.

For more details, email: laudemus@aol.com

18 – 24 August 2019

English Summer School, Lincoln

Jeremy and Nigel Perrin will direct two parallel choral programmes – sacred and secular. Some work will take place in smaller groups and singers will be asked to apply in advance for specific modules.

Full details at www.runbysingers.org/